Girl Worried She'd Never Find a Cat Who Wasn't Afraid Of Her Wheelchair, Until Rescued Stray Hopped Into Her Lap
---
Sinatra the cat is known for his blue eyes and vocals, just like his namesake singer. "His name suits him well," Larissa Condarcure, a rescuer at Suncoast Animal Shelter, told Love Meow. "He is very vocal all the time."
Even so, the cat's early days weren't easy, because this "Ol' Blue Eyes" grew up in the streets. Sinatra's luck finally started to change when he befriended a man, Chris Poole, who fed the community cats in his neighborhood. Poole realized that Sinatra, although skittish at first, was also much friendlier than the other neighborhood cats, which made him a possible rescue candidate.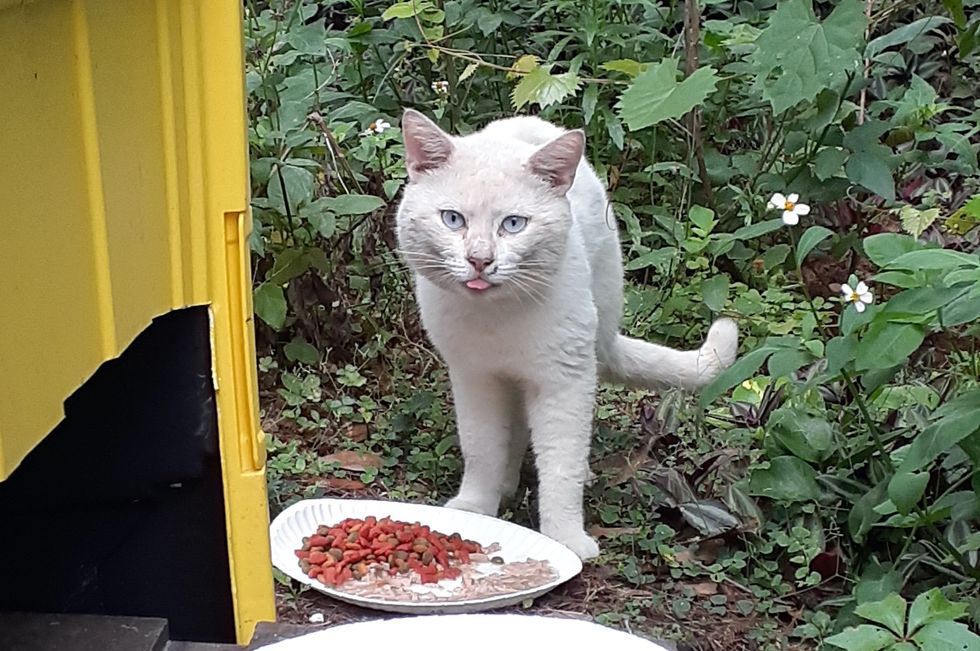 This led Poole to contact the Suncoast Animal League, the rescue organization where Larissa worked, to share the good news. As fate would have it, the shelter just happened to be seeking a brave, street-smart kitty exactly like Sinatra. Suncoast had recently been contacted by a young woman, Kiley, who wanted to rescue a cat, but was having trouble finding a cat who wasn't spooked by the sound of her electric wheelchair.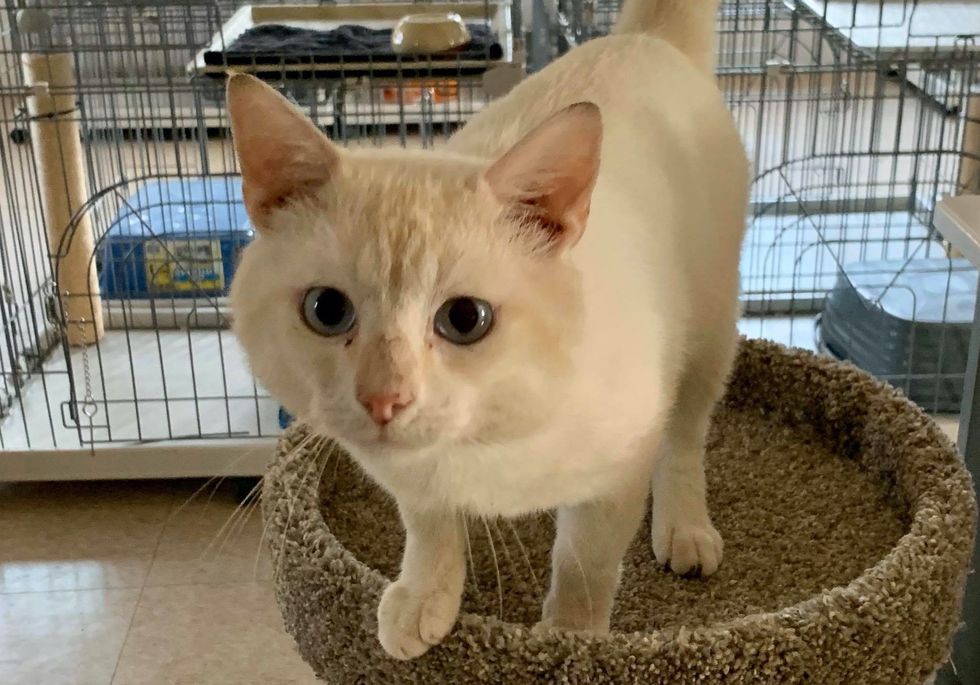 "They explained the troubles that they have had finding a cat, and I was determined to get them the right cat," Larissa recalled. So when she met Sinatra — a sweet, street-smart cat who wasn't scared by the usual sounds that send felines running — Larissa thought she might have found a perfect match.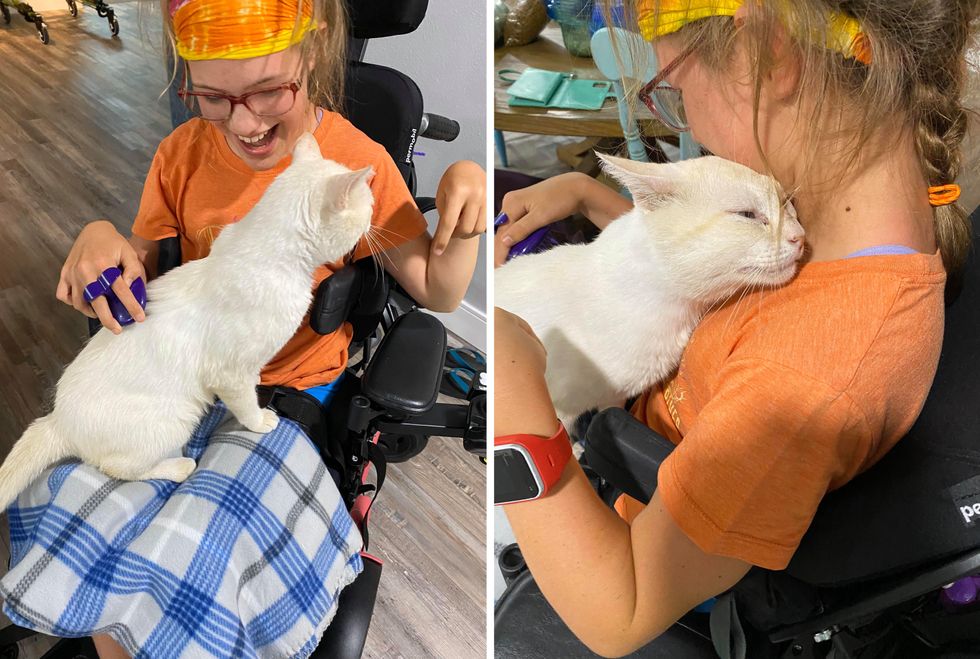 Those instincts were confirmed when Kiley and Sinatra first met. The cat took one look at Kiley, and then hopped right up into the young woman's lap and started snuggling. Kiley and her mom, Lori, adopted the sweet cat right on the spot.
Sinatra has quickly adjusted to his new life as a house cat, which includes plenty of lap time with his wheelchair-bound best friend. Nor has the wheelchair that other cats found so frightening ever given Sinatra a moment of pause. "He could care less about her driving around the house," said Lori. "Actually, he is like a speed bump and doesn't even move out of the way."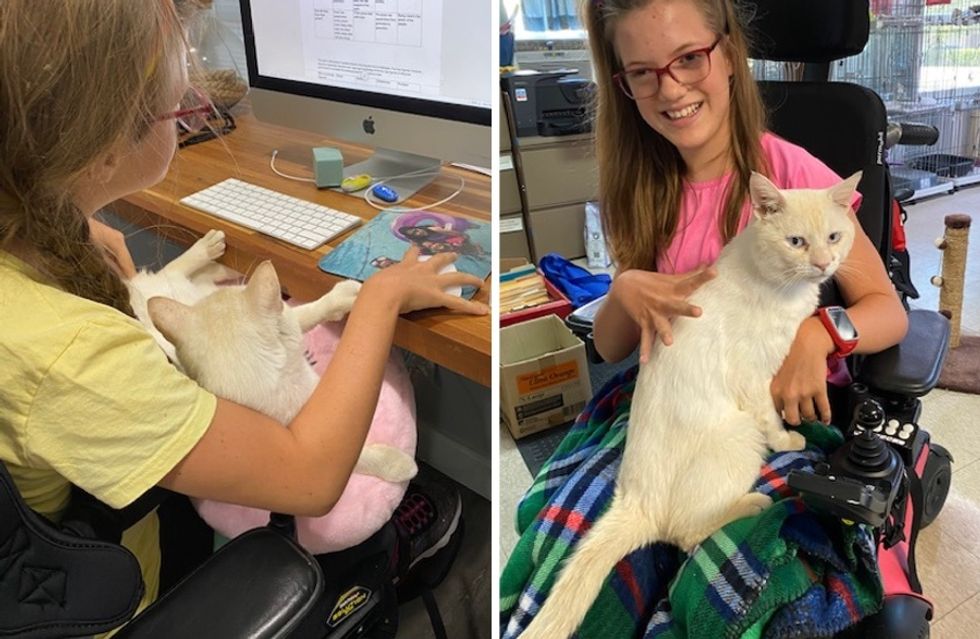 The pair have grown even closer during the pandemic, and Sinatra is clearly relishing all the extra attention he's getting now everybody's working/schooling from home. "It is like he has been a part of the family ever since he got here," Lori said of her daughter's new feline friend. "He sits in her lap in the wheelchair as she does her schoolwork and snuggles her throughout the day. It is just cuteness overload here!"
H/T: theanimalrescuesite